In September 2016 Mapbox sent out a notice that it was no longer going to support the Mapbox Editor which was the data entry and custom basemap creation tool of theirs that Map Pilot supported previously. Documentation for that can be found here.
For more information, see the Mapbox announcement blog post.
---
In an effort to support their new Mapbox Studio product we have changed around our settings a bit to accommodate the changes and some of the new features.
The big change is that there is not longer a separate Map ID and Access Token that needs to be entered in the Map Pilot settings menu. Mapbox Studio studio creations have a "Share and Preview" URL that should be copied and pasted into the "Mapbox Share URL" area in the Map Pilot settings.
This will allow users to define their own custom basemaps from GeoTiff or other sources. 
NOTE: Only the tile set is loaded from this URL. Mapbox annotations or feature markers are no longer loaded.
For loading markers, paths or shapes please use the KML import feature.
Read more about creating your own Mapbox styles for use with Map Pilot here: Bring Your Own Basemap into Map Pilot
---
Mapbox Studio operates off of "Styles". From the Mapbox "Home" screen click the "Go to styles" button.

From the "Styles" list page, click the icon next to the "Edit" button to show the options menu.

From the options menu, select "Share, develop & use"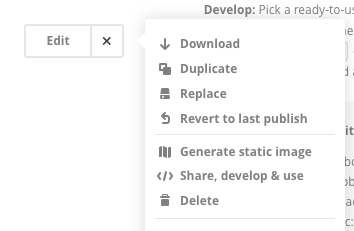 From the following style detail screen you will be able to copy the Share URL

Then paste Share URL into the appropriate Map Pilot setting entry box.