Maps Made Easy recommends using Nadir images for all map data collection. It is our view that tipping the gimbal up does more harm than good but due to overwhelming request we have added features to aid in 3D capture capability.
Gimbal Angle Setting
The Gimbal Angle can be set within the Camera tab in the Options Menu. The range is 5-30 degrees in 5 degree increments.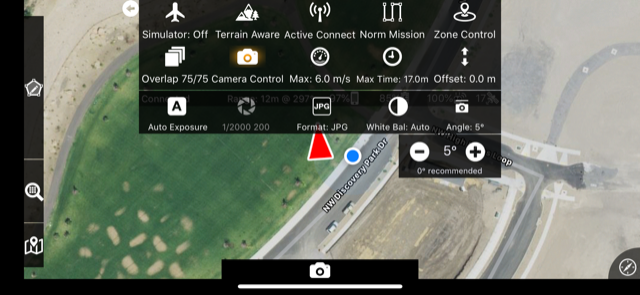 Grid Flight
A criss crossed grid pattern can be selected by cycling through the Mission Type button, which in the image above it says "Norm Mission". One tap will bring up "Grid Mission".
NOTE: Grid Flight is only intended for use over small areas when trying to reconstruct a small scene with the Full 3D setting. If the scene gets too large it can space the image collection time out too much and cause lighting discrepancies.