Skip the expensive RTK and PPK gear. Get it close. Then fix it. 
A new way to get highly accurate aerial maps without the complexity or cost. 
As of April 6, 2018 we have enabled our new Manual Georeferencing workflow for all jobs that still have active Advanced Outputs available (i.e. within the last 30 days). This new workflow utilizes surveyed Ground Control Points (GCPs) to increase the accuracy of data that has already been processed by Maps Made Easy.
In March 2018 we disabled our old manual georeferencing workflows that were designed before geotagging cameras were as common as they are (way back in 2014). Cameras that don't have location tags in their metadata required a complicated process of data entry, file selection, and feature identification. 
Now that geotagging cameras have become the norm in small UAS operations, we have reworked things to take advantage of their ability to get pretty darn close with little effort. Pretty close is not always close enough though...
The new adjustment process is far simpler than before and will allow for the fine tuned adjustment of data that has already been processed to be pretty close to the actual location. This process is meant to augment the accuracy of maps that have already been processed using geotags. 
NOTE: This feature is currently free to use but it may eventually have a cost associated with it that is proportional to the size of the original job.
Manual Rereferencing turns this: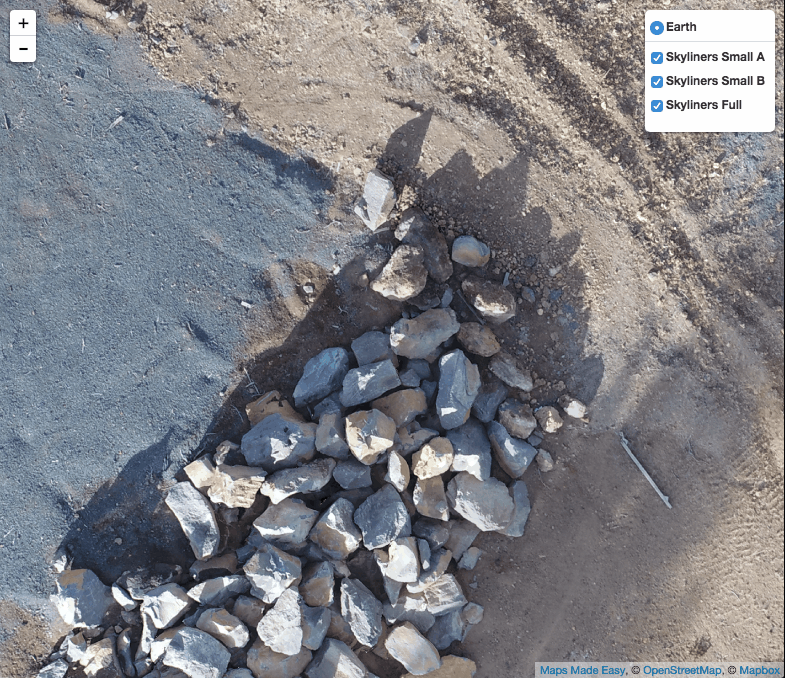 Into this (less than 1 cm of error):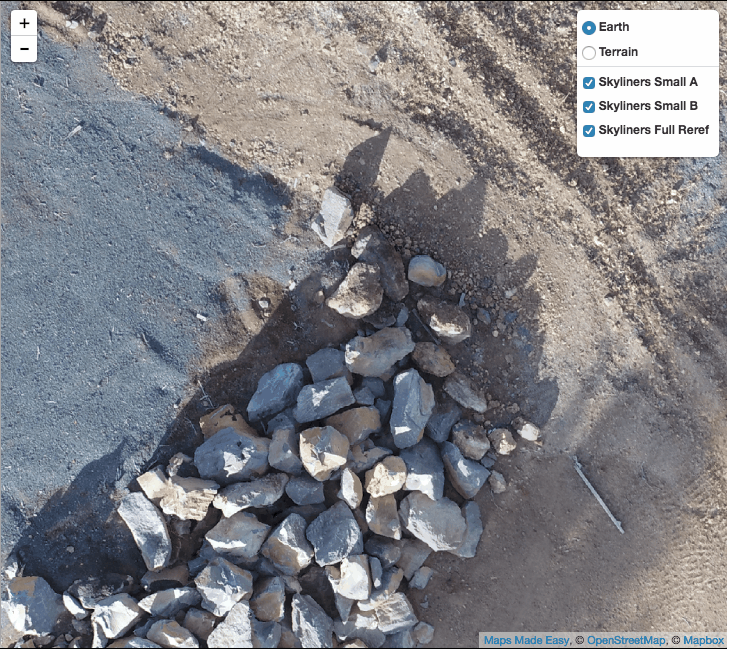 This should probably come with an epilepsy warning...
General Instructions:
1. Run a job using our 'Camera GPS' workflow that uses the image geotags to georeference. 
2. Click the 'Adjust Alignment' button at the bottom of the 'Job' section of job's the Map Detail page.  
3. Import a CSV file that contains the surveyed GCP data. 
4. Adjust the location of the GCP markers to where they are supposed to be.
5. Click 'Realign Now' and the job will run as you are used to but without the upload step.
Once the job is processed a new map will be placed in your list of completed maps. The realigned map will show that there are 0 source images. Measurements, annotations, and sharing will all work the same. 
The DEM and colorized elevation layer will be reprocessed according to the GCP data. Here you can see a comparison between an slightly tilted area and its flattened version done with GCPs.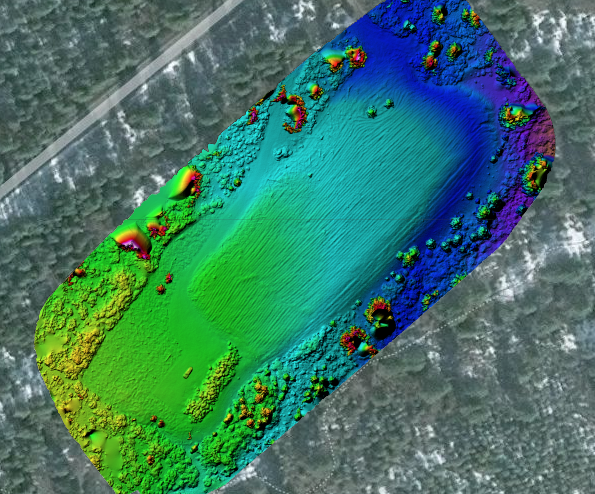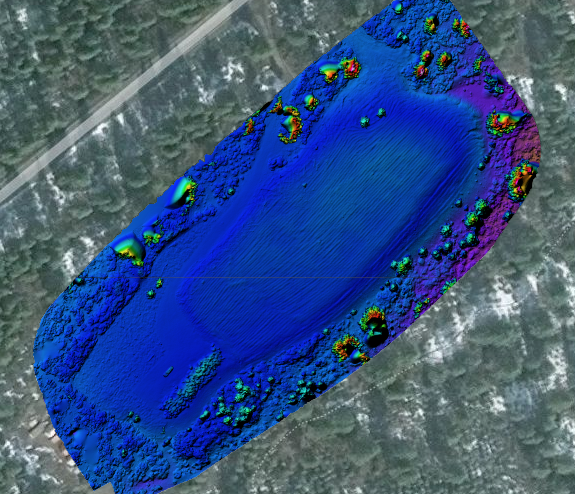 Rereferenced maps can be added to Location Maps in the same way that normal ones can. Here is a sample of 2 visits to a park with lots of active construction around it. Try zooming way in on some features and hide the latest layer to see how close they line up. These maps are within 1 inch (1 inch/pixel data) over the entire 160 acre area (65 hectares).
Play with it full screen here: 
https://www.mapsmadeeasy.com/locations/public/852a012a04d24fd28619163b7e75274b
3D related files (XYZ, LAS, OBJ, KMZ) are not reprocessed and are not provided. 
---
The GCP File
The GCP file that gets imported needs to be a .CSV file that contains a header line and no spaces after the commas. 
This is what it looks like in Excel:

This is what it looks like as text:
LAT,LON,ELEV,NOTE
44.039594,-121.416526,23.21,Marker 1
44.04031,-121.41592,20.111,Marker 2
44.040066,-121.415358,20.14,Little Rock of 3
44.039787,-121.416766,20.657,Stump Point
A sample file is available for download in the Step 1 section of the rereferencing page.
---
Adjusting the Markers 
Once the file is imported properly, you will see the GCP locations that were contained in the file drawn at the locations that were defined.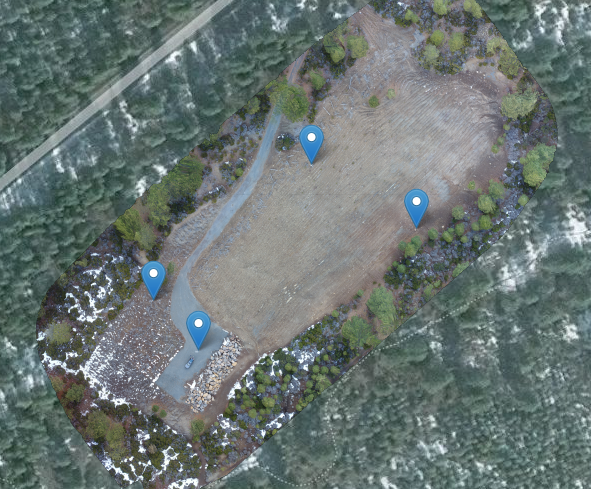 The markers are where the GCP locations say they should be and will not likely line up with the processed imagery. Why would you be doing this otherwise?
The GCP location for this marker was supposed to be in the center of the stump.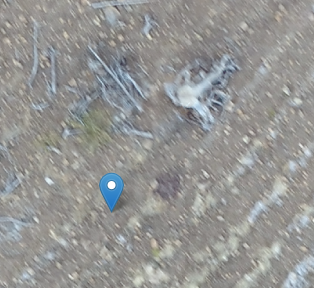 Click on the marker and drag it to where it is supposed located to be at the time of your GCP survey.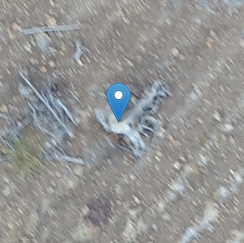 The accuracy of the reprocessing will only be as good as the surveyed points and the marker placement will allow. 
While all the markers are being adjusted you can see the offset for each point in the table:

Once everything looks good, hit the 'Realign Now' button.
---