One of the most useful features of Tag Pilot is the ability to detect and document thermal signatures that fit certain criteria. This has huge applications such as detecting a missing person in Search and Rescue operations or mapping out active wild fire lines in low visibility (smokey or night time) situations.
Pressing the "FLIR XT Setup" button will open the settings panel for the thermal operation specific setup items. Automatic Thermal Tagging (Auto Tagging) uses the definition of the size and temperature of the object(s) to be detected to analyze the thermal imagery and highlight areas of interest.
The thermal spot measurement in the lower left corner of the video feed. The measurement is taken at the cross hairs. The image below shows the temperature at the crosshairs as 15 C (chilly October Pacific water).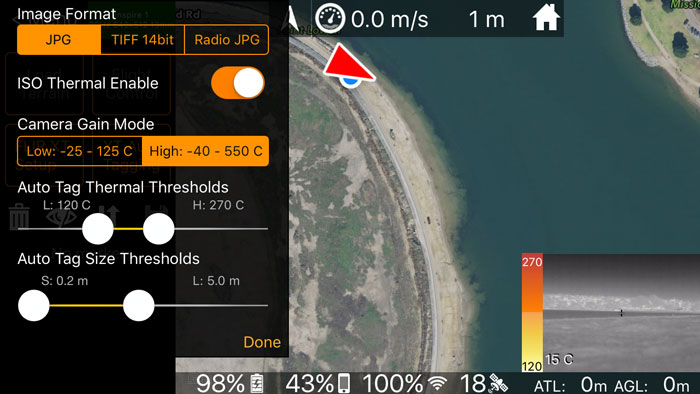 Thermal Signatures (still being refined)
Fire - Temp: 400 C and up - Size: As Needed
Missing Person - Temp: 27 C to 37 C - Size: .4m to 2m
Car - Temp: 30 C to 55 C - Size: 1m to 3m
Flying with the thermal camera is the same as flying with a normal camera but a few more features become available. The temperature color bar on the left of the video feed shows the highlighted areas and associated temperatures as defined in the thermal setup menu.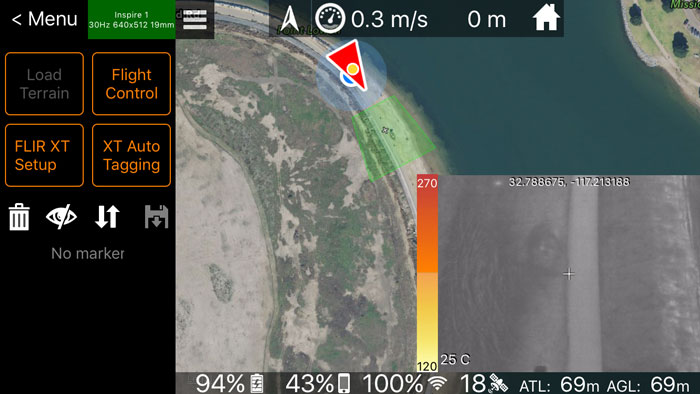 Once flying and setting up the desired thermal signature for detection the "XT Auto Tagging" button can be pressed to enable the thermal Auto Tagging. When a detection is made an orange or red circle is drawn to denote a hot spot has been detected. Red markers are for hotter spots than orange. Red means the spot averaged in the top third or higher of the range. Orange means it was in the middle half of the range.
The locations being highlighted with orange circles in the following images are of the Fiesta Island beachside bonfire pits that are 1.3m x 1.3m in size and burning an assortment of scrap wood and paper.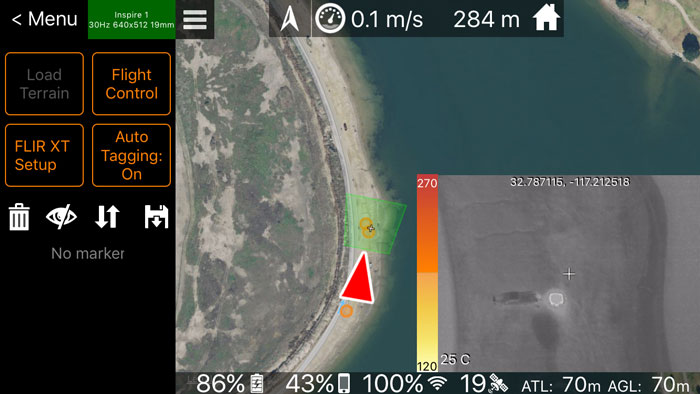 After saving the KML, hot spot locations can be inspected by reviewing the KML within Tag Pilot or Google Earth.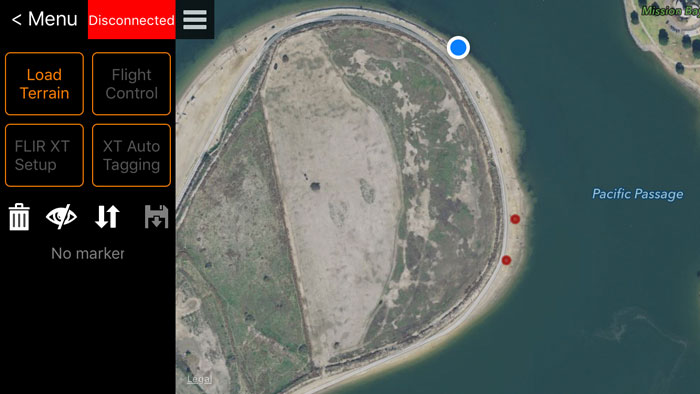 The is the KML flight log shown for multiple detection runs. The two highlighted areas are the two bonfire pits out of the four that were flown over that had fires.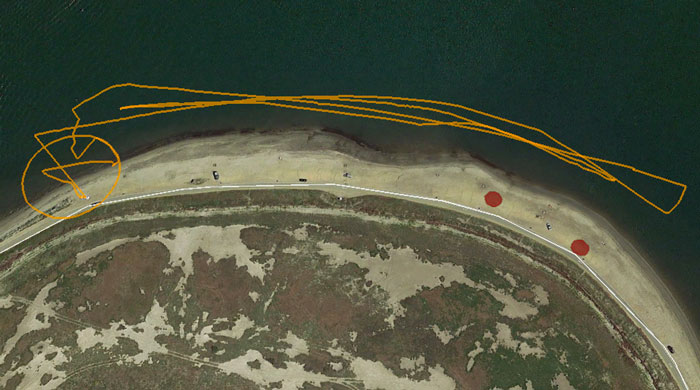 In Live Tagging mode a small fire icon is shown where the thermal signature criteria are met.