Precision Volume Measurement in the Web Browser
All jobs processed by Maps Made Easy after February 15, 2016 have the ability to measure 3D volumes.
This sample was hand measured using RTK to be roughly 10,000 cubic meters. Try it yourself to see how the tool works. This calculated value is well within 1% of the hand measured and calculated value.
---
Maps Made Easy allows users to upload images taken from their drone to create high resolution orthophoto maps and 3D models.
These models can be used to measure the volume of dirt stock piles, the amount of dirt removed from a hole or check the flatness of an area.
The tool is completely web-based and there is no software to buy or download.
This popup explains a bit about how we calculated the volume: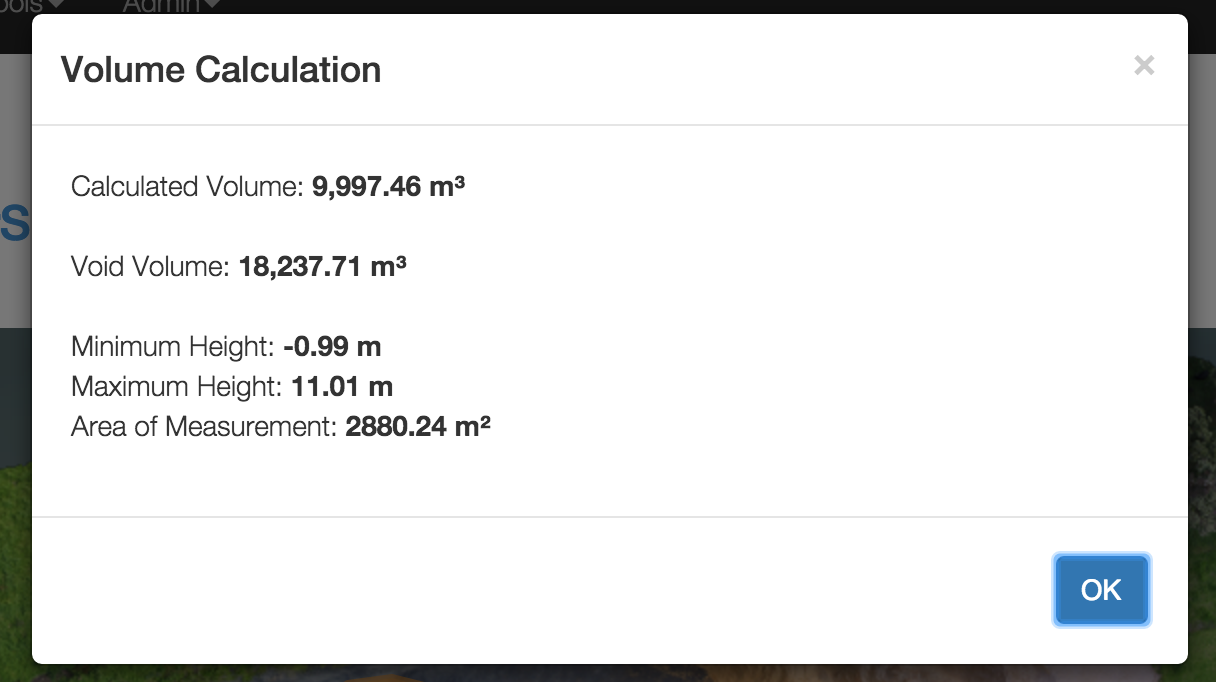 Using the Polygon Select Tool (second tool down), the user selects the perimeter of the are area for which they would like to make a volume measurement. This triggers a few different things behind the scenes.
First, elevation lookup images that were generated at the time of processing are downloaded. Then we determine a dynamic base surface within the defined polygon. Each pixel in our lookup image has a size of 4in x 4in. For each 4in x 4in sample we get the elevation and subtract off the dynamic base surface's height to give us that sample's volume. This is repeated for every sample that falls within the polygon and the sum of them is the "Calculated Volume".
The same process is repeated for the airspace in this volume or the "Void Volume" and is useful for measuring the air volume of a hole or pit. The "Void Volume" is measured downwards from the "Maximum Height". The sum of the "Calculated Volume" and the "Void Volume" is roughly equal to the "Area of Measurement" multiplied by the difference between the "Maximum Height" and the "Base Plane".
When you are drawing your polygon, imagine a stretched surface that goes between all those surface points. This is our dynamic base calculation. The volume that is present above this imaginary surface is counted as the volume. For the purposes of calculating the void volume, or volume of a pit, we use an imaginary plane at the highest selected polygon point and calculate the volume of air down to the ground surface. This is intended for drawing around the perimeter of a level surfaced pit.