Flight control of the aircraft is handled by DJI Waypoint system, so once you have a mission loaded up, that is what it is going to do. To enable faster and more adjustable framing, Map Pilot needs to maintain a strong connection to the aircraft to manage the taking of images and deliver telemetry.
We two things very early on it our testing: the signal quality goes away quickly in various conditions and drones are really hard to keep track of when flying high and fast.
We attempt to address both of these issues by providing a direction indicator under the top status bar. It's orange circles and arrows show you when you are pointed in the right direction or where you need to turn towards to maintain signal integrity.
Also, there is an audible beep that occurs when the signal strength dips below 85% in case the pilot is asleep at the wheel. In our testing, the quality of the connection degrades very quickly below 85%. If you need to operate at a lesser signal and things are working, feel free to mute the audio with your devices mute switch.
This is an example of a properly aligned remote. The blue arrow shows that the middle large circle in the indicator is highlighted which means that the mobile device is pointed straight at the drone.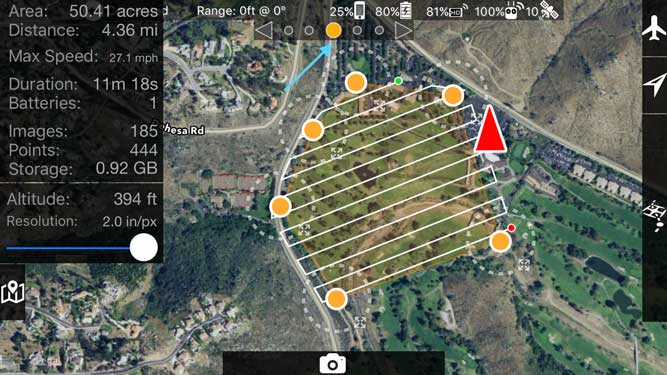 This is an example of a poorly aligned remote. The orange arrow on the right is highlighted which means that the pilot needs to turn at least 90 degrees to their right in order to be properly aligned.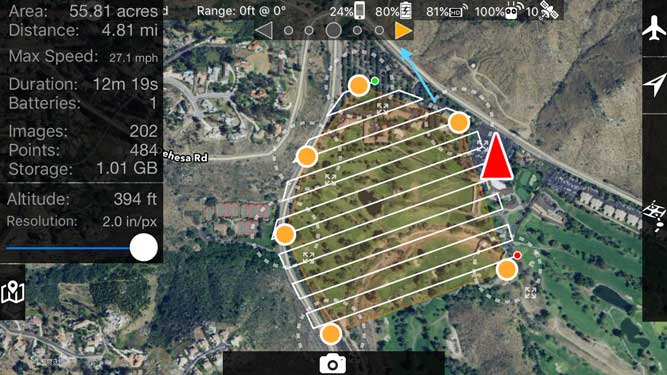 Antenna alignment has a lot to do with maintaining signal quality too. This is a good video from DJI that explains how to get the maximum signal out of your remote's antennae.
https://www.youtube.com/embed/EHoGvvCbukA