Map Pilot version 2.4.0 includes the ability to plan linear flights for mapping long thin survey areas of complex shapes. This new capability enables the efficient mapping of roads, rivers, pipelines and utility lines without having to piece together multiple missions.
This feature can be previewed for free but in order to be able to take off or save linear missions the feature must be purchased.
All Linear mapping is done using the Connectionless mapping mode. The distance-based camera triggering mode used by this feature is only supported by aircraft newer than the Phantom 4. Older aircraft such as the Inspire 1 will use a time-triggered image triggering method which creates less accurate data.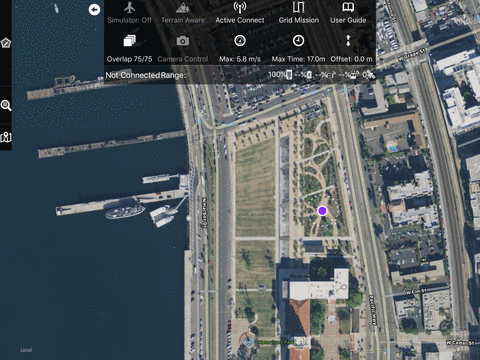 ---
Linear Mission planning does all of the same mission duration and battery estimates that normal grid mission planning does. Multiple battery missions are denoted by the flight path line color changing from white to grey. Flight times and the number of images are estimated and shown in the Flight Statistics pullout in the top left slide-out panel.
Selectable Number of Passes
By swiping left or right on the top status bar, the number of passes in a linear mission can be reduced or increased. The minimum number of passes is 1 and the maximum number is 15. These passes are laid out according to the overlap settings just as any other mapping mission.

This is the top status bar that should be swiped in to adjust the number of passes.
Keep in mind that doing only a few passes will greatly affect the amount of overlap that achieved in the survey area. Use more along track overlap (frontlap) to account of this.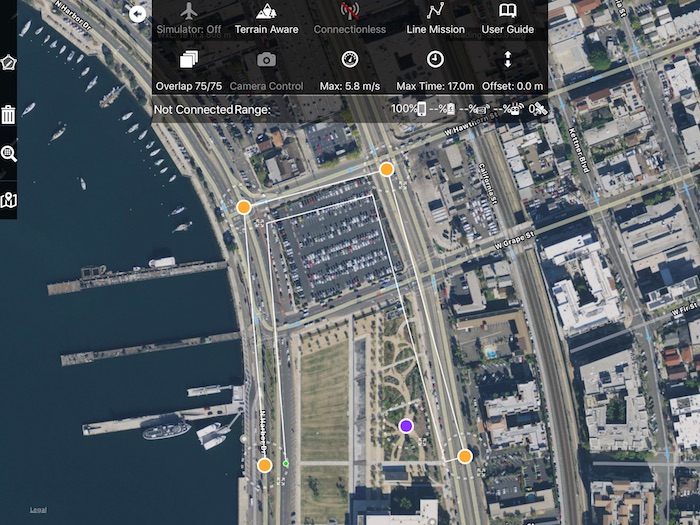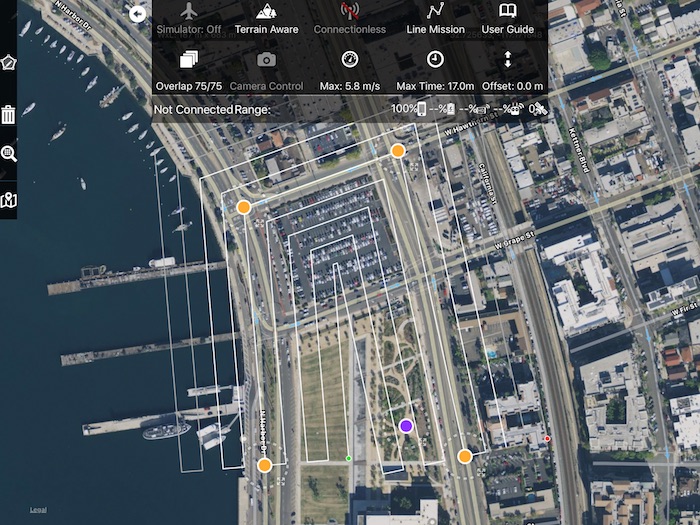 Connectionless Mapping
Linear flight utilizes Connectionless mode to ensure that images are taken even when the aircraft is far away from the takeoff location. Since the aircraft is not turning around as frequently as it is in a grid mission it will not slow the aircraft down too much and the resultant images will mostly exhibit the same amount of speed-based stretching.
Works with Terrain Awareness
Linear flight planning works with our Terrain Awareness feature exactly as it does with a grid mission. This enables the accurate and efficient mapping of uneven roads, utility line paths and pipelines.