Granting Maps Made Easy access to your Dropbox folder provides the ability to automatically upload all of the generated Advanced Output files. 
The "Third Party Integrations" box in the user's "Profile" has a Grant Box Access button.

Pressing the Grant Box Access button will redirect the user to a Box page that will ask whether or not to allow Maps Made Easy to access the root folder in your Box account. Click Grant access to Box.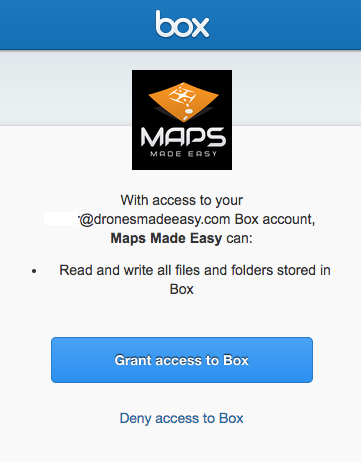 After clicking Grant access to Box, the user will be redirected back to the profile page. There will be a green banner at the top stating whether or not it was successful.
Refresh the page to check that the access was granted. If all was successful, Access Granted will be shown next to the button. The Reauthorize Box Access should be used in the event that the user removes Maps Made Easy access for some reason and would like to add it again.